Catalog Quick Search
Resource Spotlight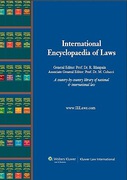 The International Encyclopedia of Laws provides practical information and valuable insight into international legal frameworks. The IEL aims to respond to the growing need for comprehensive, up-to-date and readily available information on the most important legal disciplines in leading countries.
The Library subscribes to the following topics: IEL Civil Procedure,
IEL Comparative Law of Monopolies, IEL Corporations and Partnerships, IEL Criminal Law, IEL Cyber Law, IEL Family and Succession Law, IEL Sports Law, and IEL Tort Law.
Databases – Quick Links
Research Tools

FIU's Green Library (GL) provides a list of resources to help you locate scholarly journals, magazines, newspapers and other materials.

Bloomberg Law provides primary and secondary legal content; company and market information; news; and more.

Lexis Advance provides legal research tools, on-demand research training, as well as legal career information and support for law students and faculty.